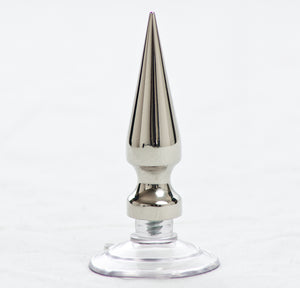 Suction Cup 2 3/4" Chrome Plated Aluminum Spike
Regular price $12.95 Sale
SKU
158
No more drilling holes in your helmet! Industrial grade suction cup spikes will hold tight at any speed.
Guaranteed to stay on: Be sure that the surface and suction cup is clean and just press on. 
For maximum holder power: Using a little saliva does increase the holding power but it will evaporate after awhile. The best thing to use is a very light film of vegetable oil. This will not evaporate and it does increase holding power. (This was road tested at 120MPH)
To remove, lift up on the edge of the suction cup. Do not pull on the spike or you may tear the spike off of the suction cup.
NOT FOR FLAT BLACK SURFACES. Works on chrome or any smooth gloss surface.
This polished chrome plated suction cup spike is perfect for creating a helmet that stands out in a crowd. You won't get lost in a sea of black helmets when you stick one or more of these sick puppies on your helmet. Also use them to add some wickedness to your bike, rat rod, etc.
Beautiful polished chrome spike is 2 3/4" long.
Base of the spike is 3/4" dia.
Made from solid aluminum, has a quality finish unlike the cheaper spikes available elsewhere.
Industrial grade suction cup is guaranteed to stay on!
Great for creating a Kaiser style German helmet without drilling any holes!