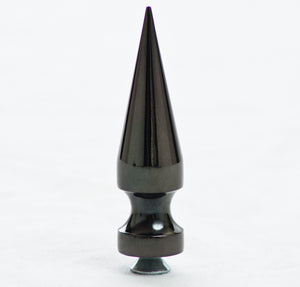 Screw-On 2 3/4" Gloss Black Powder Coated Aluminum Spike
Regular price $9.95 Sale
SKU
159
 This screw-on spike is perfect for creating a helmet that stands out in a crowd. You won't get lost in a sea of black helmets when you screw one or more of these sick puppies on your helmet. Also use them to add some wickedness to your bike, rat rod, etc.
The screw has 1/4"-20 threads which are very common. These will fit the threads that hold the air cleaner on older cars that aren't metric. (great for rat rods)
Beautiful gloss black spike is 2 3/4" long.
Base of the spike is 3/4" dia.
Made from solid aluminum, has a quality finish unlike the cheaper spikes available elsewhere.
Common 1/4"-20 threads.
Great for creating a Kaiser style German helmet!