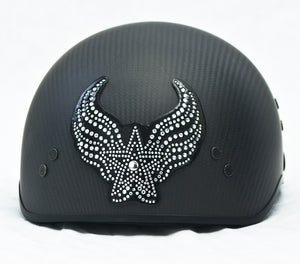 Rhinestone Helmet Patch Winged Star
Regular price $15.95 Sale
SKU
1106
Rhinestone Helmet Patches are made using a weatherproof automotive grade adhesive. The stones are fused together with a heat press on a gloss or matte black backing.
The directions are so simple: Just peel off the back and stick on. The special automotive grade adhesive allows you to apply and remove the patch for repositioning if necessary. The bond becomes stronger with time so it is not advisable to try to reposition the patch after it has been on for a day or more.
Note: Helmet NOT included!
Originally made for motorcycle helmets, rhinestone helmet patches can be applied to so many things: Laptops, fenders, gas tanks, car windows, video game consoles, binders, scrap book covers, or any smooth surface. They have a slight stretch to them which works perfect on slightly rounded objects such as helmets.
Size: 4 1/2" W x 4 1/2" H